Bespoke Stealth Track Chainrings - different sizes, colors, designs
€

90.00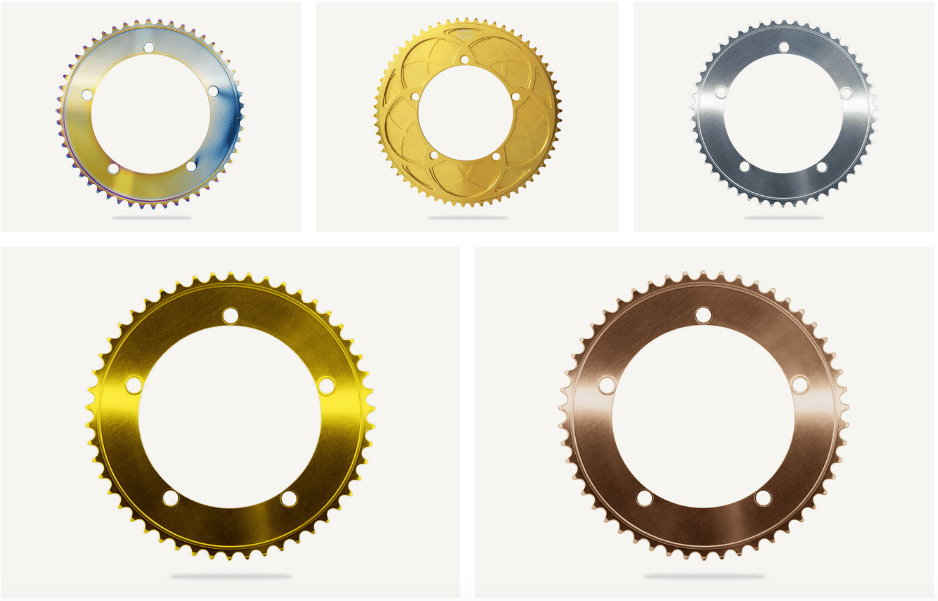 To see variety of all different types of chainrings check https://www.bespokechainrings.com/
Available in the following sizes (leave a comment which size you like to have. Some might be out of stock and therefor pre-order):
144 bcd
48, 49, 50
Finish:
Stealth Track Edition | Silver, Black, Gold, Copper, Nickel, Oil Slick | 48t to 50t
Teeth Profile:
1/8th
Plate Width:
5mm outer ridge machined down to 4mm center.
Material:
7075 Alloy
The 2017 Track Chainrings have been re-designed with major consideration towards performance in fixed crits. Inspired by the tooth design of the Sugino Zen (NJS) the tooth is smooth and curved, no sharp angles, yet wide and with arcs that fit the chain perfectly - so the acceleration and deceleration is perfectly tuned in. Smooth and Silent like a predator. Each ring is high precision double machined. Perfectly refined.
Currently being raced around the world by Mess Pack Berlin, East London Fixed, Team Nater and other individuals in the Red Hook Crit series, pro track cyclists as well as bike messengers around the world.
Design Detail:
Stealth - The latest edition of bespoke chainrings in a more aero design, clean and to the point.
Custom desgins and custom laser engraving also available, at http://bespokechainrings.com.
Share